Christian Web Designer for Churches & Ministries
Exodus Christian Web Design Studio – As the leading Christian Web Designer on the Internet since 1998, we have worked with many different types of churches, ministries, non-profit organizations, and businesses throughout the U.S. and Internationally. In fact, we've served clients on every continent except Antarctica! We have a passion for working with individuals and faith-based organizations. As Christian web designers, we know that your mission is unique, so we don't use templates or cookie-cutter web designs. Your new website will be created JUST FOR YOU with vibrant inspirational custom graphics and web programming to deliver your message with EXcellence. IT'S EASIER THAN EVER TO GET ONLINE with our all-inclusive web design packages that include everything you'll need for your first year – for just $795!
Questions? Call us at 952.432.7956 or email us for more information.
Here are some of the Christian web designs we have done: 
His Dwelling Place Ranch
Christian Retreat Ranch
Web Design & Logo Design
Incorruptible Seed
Biblical Teaching Ministry
Nikki Cheree
Christian Author & Speaker
Web Design & Book Cover Design
Adonai Revival Ministry
Christian Church
Web Design & Customized WordPress
Fionna's Angels Network
Non-Profit Ministry
Web design & logo design
Church on the Rock
Christian Church
Web Design & Logo Design
Center Peace Ministries
Christian Church and College in Baton Rouge, Louisiana
Logo Design and Web Design
Edna Sullivan
Christian Author
Web Design & Book Cover Design
Kingdom Women's Ministry
Women's Ministry
Christian Web Design
Glorious Becoming Intl
Christian Women's Ministry
Web Design, Flyer Design, Logo Design
Guiding Star
United Holy Church of America
Christian Web Design
Open Door Worship Center
Christian Church in Long Beach, California
Web Design
New Elevation Ministries
Church in Indianapolis, IN
Web Design
Umbrella Ministries
Christian Ministry to Moms who have lost a child
Web Design
Flint River Presbytery
Christian Presbytery in Flint River
Christian Web Designer for Customized WordPress
Christ International Ministries
Christian Church Maryland
Web Design, Custom WordPress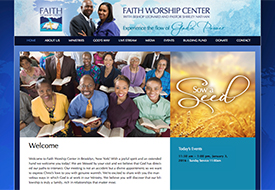 Faith Worship Center
Christian Church in Brooklyn, NY
Web Design
Kingdom Builders International
Christian Church in Joliet, IL
Web Design & Customized WordPress
Royal Christian Family Ministry
Christian Church in Chicago, IL
Web Design, Custom WordPress
www.royalcfm.org
Annette Hills
Christian Recording Artist & Song Writer
Web Design & CD Cover Design
Oasis of Manna Church
Christian Church in Weehawken, NJ
Web Design & Customized WordPress
www.oasisofmanna.org
Tavares Robinson
Christian Author & Speaker
Web Design
The Valentine Prophecies
Christian Author
Web Design & Customized WordPress
United Prayer Ministries
Christian Author, Speaker, Evelyn Christenson
Web Design, Custom WordPress